11 May 2022
Summer language courses in German and French
Summer language courses in German and French are now being offered to students going abroad on an exchange programme or internship in the academic year 2022/2023.
The courses will take place at South Campus from 8th to 26th August 2022. 
The courses are free for students who are enrolled at the University of Copenhagen and fulfil the admission requirements. After the course, there will be an online follow-up session in October during your stay abroad and a final rounding-off session after you return to Copenhagen.
General information about the language courses
As part of students' preparation for studying and doing internships abroad, the University of Copenhagen is offering intensive summer language courses in German and French.
The courses will be taught by language instructors affiliated to the Centre for Internationalisation and Parallel Language Use (CIP).
If there are enough registrations, each course will be split into two levels (intermediate/upper-intermediate).
A minimum level of A2 on the CEFR scale is required to participate in these courses, so they are not aimed at beginners. When you register, you will be asked to indicate your language level by completing a language self-evaluation.
Course content
Both the German and French courses consist of 60 hours of teaching spread over three weeks. These are therefore very intensive courses, enabling participants to progress rapidly in their chosen language.
With four hours of teaching and four hours of self-study and preparation each day, the courses are designed to give you a head start in enhancing your language skills for your stay abroad.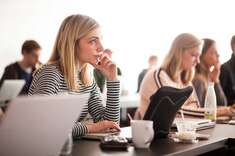 Registration and admission