1 December 2022
Two new professorships at CIP
It is with great pleasure that, as of 1 December 2022, we can announce the appointment of two new professors in multilingualism at CIP: Slobodanka Dimova and Janus Mortensen.
The two new professorships are expected to boost the University's research, teaching and dissemination profile in the areas of multilingualism, language policy, and linguistic evaluation and testing.
The two new positions have been awarded after the jobs were advertised in spring 2022 and following recommendations from a unanimous appointment committee chaired by Dean Kirsten Busch Nielsen.
The appointment of the two new professors will strengthen CIP's role as a research-based centre for parallel language use and internationalisation across the whole of the University of Copenhagen and will make a major contribution to the strong linguistic research environment at the University.
Slobodanka Dimova has been employed at CIP since August 2012 as an associate professor and specialises in linguistic evaluation and testing. She has been responsible for developing CIP's TOEPAS certification procedure for assessing lecturers' English language skills for teaching and was the project leader for the Erasmus+ funded project "Transnational Alignment of English Competences for University Lecturers".
Slobodanka will become professor of multilingualism and language evaluation from 1 December.
Janus Mortensen has been employed at CIP since August 2015 as an associate professor in language policy. He led the DFF-funded project "Transient Multilingual Communities" (www.tmc.ku.dk), which carried out ground-breaking research into linguistic practice in multilingual environments. Janus is now part of the new DFF-funded research project "English and Globalisation in Denmark: A Changing Sociolinguistic Landscape" (PI Dorte Lønsmann) together with colleagues from CIP, Engerom and NorS. The purpose of the project is to examine the status and use of English in today's Denmark.
On 1 December, Janus will become professor of multilingualism and language policy.
Slobodanka and Janus will each give inaugural lectures in the spring of 2023. The exact dates will be announced on the CIP website and in HUM's calendar of events.
Topics
Professor Slobodanka Dimova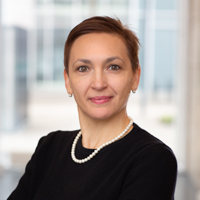 Professor Janus Mortensen