Activities and events
During the project the partners arranged a conference on "EMI practices in Europe" in April 2019 and has hosted  a series of local EMI workshops in autumn 2019-spring 2020. 
Local EMI workshops
As part of the project, each partner hosted a 3-day EMI workshop for local lecturers, based on the EMI Handbook. The purpose of the workshops was to introduce the local participants to the basic characteristics of EMI and to provide them with opportunities to develop strategies that support teaching and learning in their local contexts. The unique characteristic of the workshops was that they did not offer prescriptive solutions to the local challenges. While they informed lecturers about common challenges of EMI in Europe, they raised awareness of context-specific issues and the local possibilities to address them. Although each day of the workshop focused on a different aspect of EMI, i.e. pedagogy, language, and intercultural communication, the interrelatedness of all these aspects was emphasized.
Most workshops took place in the summer/autumn 2019, and an online version of the workshop was held in the spring 2020.
This two-day conference consisted of presentations of current research into and expericence from EMI practicies as well as workshop sessions where practitioners, researchers and EMI trainers shared best practice concerning the methods related to teaching in a second language.
The conference was arranged by the partner FHSS in cooperation with UCPH.
Read more at the conference website. 
Co-funded by Erasmus+
The project was co-funded by the Erasmus+ programme of the European Union
Official logo TAEC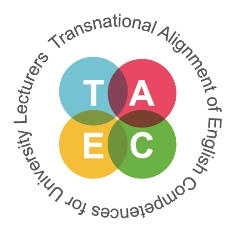 Contact
If you have questions to the TAEC project, please contact the coordinator at taec@hum.ku.dk or your local partner university.